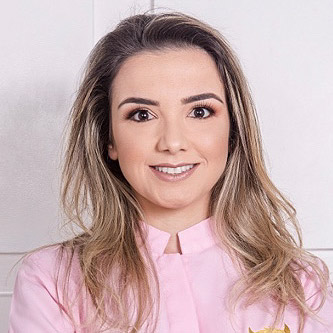 Valquíria Moura
Dentist, she graduated from the Pontifical Catholic University of Minas Gerais (PUC-MG) in 2005. She had further studies in pediatric dentistry at the Federal University of Minas Gerais and specialized in pediatric dentistry at PUC-MG (2007).
She performed several theoretical-practical training in sedation with nitrous oxide, drug sedation in pediatric dentistry, cardiovascular life support, therapeutic and surgical laser in dentistry, among others.
Dedicated exclusively to the practice of pediatric dentistry in private clinic since 2007, she is Clinical Director of TiaVal Odontopediatria, since 2008.
Her interest in outpatient surgery stems from a natural path, since she has extensive experience with the treatment of pediatric patients in an outpatient operating room setting, in hospitals.
Since 2018 she has dedicated herself to projects in the field of outpatient surgery applied to pediatric dentistry, having visited specialized centers in Portugal and Norway.
She also has interest and experience in health management, having completed an Master in Business Administration in Business Management at Getúlio Vargas Foundation, in 2009.